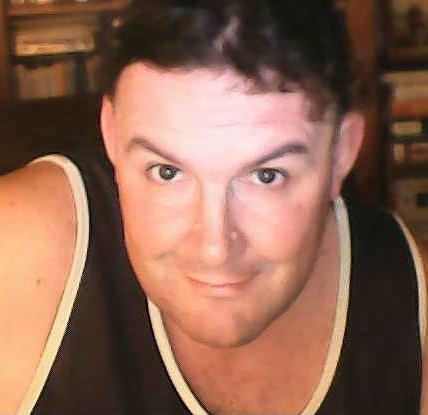 Good Aussie Man, who enjoys to meet , and hopes, to learn about a great person honest and witty..
Hashtags
#Australia#DogLover#80sMusic#Gardening#WalksToBeach#Movies#Politics#FishnChips#Happy#Victoria#Comedy#JustForLaughsGags#Carpentry#CBRadios#HerbalMedicine#Beach#Caring#Boxing#Wrestling#ClassicCars#Honesty#CurrentAffairs#FreedomOfSpeech#UFOs#SciFi#McArdlesDisease#Facebook#Conservative#Nature#Tall#JackieChan#TheBoltReport#TheABCAreBias#GiveDanielAndrewsTheBoot#EssendonFC#MelbourneCityFC#HungryJacks#Facts#ClimateChangeIsAHoax#FordV8#MeatPie#SausagesAndMash#PersonalCarer#Travelling
Location
Sale, Australia  [ show map ][ hide map ]
I'm here to
I'm here to meet girls 25 to 49 years old for friendship, serious relationship and more.
About me
Hello there,

l am Adrian, that's my real name, l like to be real and honest about the basic things in life. l am born and raised in Australia, and lived in same town, all my life basically, so l have seen all the changes of where l lived, from no house, paddocks and unmade streets, to the street being full of homes and local people. But now, I have moved to East Gippsland, to enjoy the lakes, rivers, forest, mountains, quiet and ocean nearby.

l was very close to my Grandmother, who lived in the same area, which she loved her bingo & poker machines, at nearly 97..she was a diamond..but sadly died in November 2019, all my family live nearby, l have 2 younger brothers,both with kids and a partner, my Mother died suddenly in May 2020,.

As for me, l am 1.87m tall, and of a solid strong build, or call me whatever body shape you wish, but l am who l am, and want to be appreciated for who l am. l have brown eyes, and short black curly hair. l am generally a quiet person, and l like to be independent.
l enjoy being home and the outdoors, l am not into socializing to be honest, and not really into club/party scene anymore, l am past those years.

l like to do gardening in my free time, watch AEW wrestling, YouTube and live sports. I enjoy to go on long car drives to the countryside and see the beautiful countryside here and visit new towns and area's. I enjoy such places like the ocean, coastline, mountains, national parks and even the country towns. l not really a city person, but go of course when l need too.
l do have 4 dogs, which l love as they are a huge part of my life, and they are my best friends, like family to be honest.

l have been to several countries already, such as Canada, USA (West Coast), China 3 times, Hong Kong 3 times, Thailand, Vietnam and Singapore. In Australia, seen half the country, but do love Tasmania and Victoria.

l love 80's music, such as Queen, Duran Duran, Spandau Ballet, Pseudo Echo, Kids In The Kitchen, and array of others, and l do love to sit and watch DVD's on my 75 inch TV...l do like walking along the beach, with the dogs, and internet of course (getting on EBAY and Facebook), and do enjoy looking for collectibles and bargain finds at auctions.

As for sport, l wish l had more time, l like to play golf, lawn bowls, play snooker, darts and watch A-League soccer . l am a Essendon fan in the AFL, and Melbourne City in the soccer.

l have many different interests, which started from liking Western Herbal Medicine, a interest in natural medicine, as well as building and gardening, also Politics.

As for my work past, from a landscape gardener to aged care nursing as a carer. Both l done 1/2 my life so far, my passion is working outdoors, nursing is a career which horrifies me, of how the oldies are looked after, l mean care staff work hard to deal with them, but the way management of these aged care facilities budget their lifestyle and not give them more necessities is terrible, my past employer showed me how bad it was, and how they not look after their cherished good staff, and worry about their profits, very sad is their mentality

l am a decent a nice person, easy going, fair, funny, friendly, hard working, honest and mannered, l like respect and l give it back. Just ask me and smile.

l have good personality and character, and like to be strong in my opinions, but l listen, and may not agree, but l am never always right.l am not the fittest man around, but l am strong, and l have my flaws, and strength, in my health. So l am a good advice giver, and l listen to reason and fair on what l say.

My past, l no longer married, but separated from my wife, (now its finished) l was happy before, but it was never to be, thats the way it goes, you think its good, but people change and then it goes backwards, and its not there, thats how the cookie crumbles..thats life, you need to smile and soldier on, and be happy and positive , being yourself as l am. have no kids either.
About you
l would like to mostly meet female friends, penpals or someone wanting to chat or meet in person. l am easy going person, who's friendly, quiet, independent, funny, fun to be around, good conversionalist, cheeky and affectionate person who is interesting and loves a chat about anything. l would prefer a non judgement person, who's quiet, also friendly, happy, respectful, clean and tidy, dresses nice and not so baggy and simple, yet is themselves. Someone who likes a chat, likes movies and 80's music. Someone not too short, as long as they can fit in tight jeans and confidentally say they look good HA HA HA joke!!! Just be happy and confident, acting your real self..
Someone tall and friendly, but quiet...Loves 80's music and joker...
NO LADYBOYS, NO CAM GIRLS, or girls after money... thanks, and only if your over 5'5 tall, slim, sorry but l am tall man....thanks..extra smiles if you like wearing long boots and tight jeans..msg me.. Only kind hearted girls., so l looking for true friends, and loyal ones.., so l hope to meet others, understanding of me.. GIRLS after money, not message me, l not have any...go to those desperate Americans , not me. IF YOU EXPECT TO SEE ME ON CAM so fast, not message me as you wont see...l will use when l know you the person in heart and mind and personality..
Personal info
Location:
Sale, Australia
Appearance:
Handsome
6'2" (187cm) and big & beautiful.
Occupation:
Landscape Gardener
Wants children:
Undecided
Relationship status:
Separated
Education:
College - Some
Religion:
Christian - Other